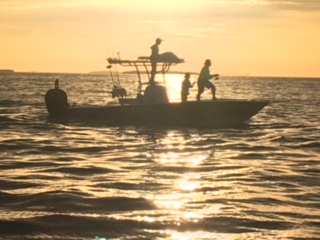 Crazy for tarpon split day
fish 4 hours in the morning and 4 hours in the evening.
Fish two half days and catch the tarpon at peak
feeding times early morning and late evening
Fishing times are based on tides and clients preference.
Save $$$$$$ when booking a split day charter
inshore boat/
nearshore boat $1100


Sun up sun down
12 hours to do it all. Fish swim, explore and then fish some more
dont forget sunset. $1500
available March thru October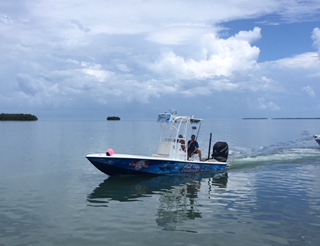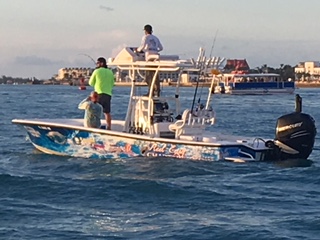 INSHORE VS NEARSHOE WHATS THE DIFFERENCE
OUR INSHORE BAYBOATS ARE 24FT ACCOMODATE 1 TO 4 PASSAGERS AND FISH INSHORE FLATS BASINS AND FINGER CHANNELS THAT MAKE UP WHAT WE CALL THE BACKCOUNTRY ALL INSHORE BOATS ARE POWERED BY 300HP MERCURY VERADOS.
NEARSHORE BOATS ARE 28 FT ACCOMODATE 1TO 6 PASSAGERS AND ARE ABLE TO FISH ALL THE SAME AREAS THAT OUR INSHORE BOATS FISH PLUS NEARSHORE WRECKS AND REEFS. NEARSHORE BOATS ARE POWERED WITH MERCURY 350HP VERADOS, ALL NEARSHORE BOATS HAVE T-TOPS & BATHROOMS
ALL OUR BOATS ARE STATE OF THE ART WITH THE LATEST AND GREATEST AVAILABLE IN THE FISHING INDUSTRY. SO WHETHER YOU BOOK OUR TECHNICAL POLING SKIFF OUR INSHORE BAY BOAT OR ONE OF OUR NEARSHORE HYBRID BOATS YOU WILL BE FISHING ON THE BEST BOATS KEY WEST HAS TO OFFER WITH THE BEST TEAM KEY WEST HAS TO OFFER
Reel Easy charter fishing rates

RATES ARE BASED ON 1-4 PEOPLE. PER PERSON RATE OF $100 APPLIES TO 5TH & 6TH PERSON

1/2 DAY 4 HOURS KEY WEST CHARTER FISHING




$ 650 INSHORE BOAT

half day charters are a great way to spend the morning or afternoon having fun bending a rod in key west. with so many species of fish your sure to have a great time.

$ 650 NEARSHORE BOAT

3/4 day 6 hours KEY WESTCHARTER FISHING




$800 INSHORE BOAT

our 3/4 day fishing charters are very popular and offers the client extra time to land that big fish. it is a 6 hour trip which gives you some time to move around. we normally get started at 8am but trips can begin at any time.

full day 8 hours KEY WEST CHARTER FISHING

all day charters are a great way to try out several different types of fishing. different species can be targeted in a single day. we offer back-country, inshore, near-shore, reef and wreck fishing which offers clients a chance to experience allot of key west fishing in a single day.

$1000 NEARSHORE BOAT

sunset tarpon trips 4 hours KEY WESTCHARTER FISHING




$650 INSHORE BOAT

sunset tarpon trips are a great way to land your first tarpon. these trips are offered during tarpon season which begins late march and runs into july with may being the peak time. trips last 4 hours and begin at 5 or 6pm. sucess rates at these times improve greatly as more fish begin to feed at dusk.

full day Marquesas or gulf wrecks CHARTER FISHING




$1200 INSHORE BOAT

the Marquesas keys are located 22 miles from key west and is a premier location to catch fish like permit , bone-fish , red-fish ,and tarpon. the many shallow water wrecks and abundance of life allows you to also catch many other species like cobia and barracuda.many record fish have been taken from this area. only full day charters are available and good weather is essential.
18 FT INSHORE BEAVERTAIL SKIFF 1 TO 3 ANGLERS
24 FT INSHORE BAYBOATS 1 TO 4 ANGLERS
28 FT NEARSHORE HYBRID BOATS 1 TO 6 ANGLERS
IMPORTANT NOTE WE ARE WILLING TO TAKE THE MAXIUMUM NUBER OF PASSAGERS ALLOWED BY LAW WHICH IS 6. WE DO THIS BECAUSE WE DONT WANT TO LEAVE ANYONE ON THE DOCK & LARGE FAMILYS CAN ENJOY A DAY ON THE WATER WITHOUT BREAKING THE BANK. WITH THAT BEING SAID. WE NEVER FISH 5 OR 6 PEOPLE OR SIX RODS AT ANY TIME.
IF YOU ARE A LARGE GROUP AND WANT EVERYONE HOLDING A POLE AND ACTIVELY FISHING WE WILL BE HAPPY TO PUT YOU ON MULTIPLE BOATS. YOUR GROUP CAN STILL STAY TOGETHER WHILE FISHING FROM MORE THAN ONE BOAT
Cash or check is the preferred form of payment and the prices below reflect a 5% discount for customers who choose to make payment in either one of these forms.
All other forms of payment do not include a discount
remember to bring sunblock , sunglasses , drinks , and lunch if your plans include a extended day on the water
charter rates include all license, bait , tackle , rods , boat , captain , and cooler with ice.