key west conchs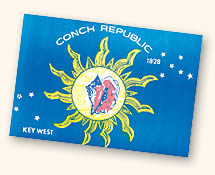 Many of the residents of Key West were immigrants from the Bahamas, known as Conchs (pronounced 'conks'), who arrived in increasing numbers after 1830. Many were sons and daughters of Loyalists who fled to the nearest Crown soil during the American Revolution.[9] In the 20th century many residents of Key West started referring to themselves as "Conchs", and the term is now generally applied to all residents of Key West. Some residents use the term "Conch" (or, alternatively, "Saltwater Conch") to refer to a person born in Key West, while the term "Freshwater Conch" refers to a resident not born in Key West but who has lived in Key West for seven years or more.[10] However, the true original meaning of Conch applies only to someone with European ancestry who immigrated from the Bahamas.[11] It is said that when a baby was born, the family would put a conch shell on a pole in front of their home.[citation needed]
Many of the black Bahamian immigrants that arrived later live in an area of Old Town next to the Truman Annex called "Bahama Village."
Major industries in Key West in the early 19th century included fishing, salt production, and salvage. In 1860 wrecking made Key West the largest and richest city in Florida and the wealthiest town per capita in the U.S. A number of the inhabitants worked salvaging shipwrecks from nearby Florida reefs, and the town was noted for the unusually high concentration of fine furniture and chandeliers that the locals used in their own homes after salvaging them from wrecks.